Floats idea of national seafood marketing effort for US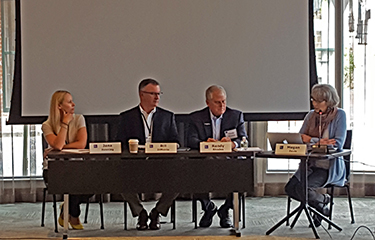 By Chris Chase
May 2, 2019
Over 30 years ago, in 1986, the U.S. Fish and Seafood Promotion Act was enacted to do exactly what its title implies: Promote the consumption of the country's domestically harvested seafood by establishing Seafood Marketing Councils.
Soon after U.S. Congress enacted it, a National Seafood Council was established in 1987. The council ran for five years, before desolving at the end of its funding cycle. While a few marketing efforts it pursued may have gained some attention – some still recall the "Sturgeon General" – a relatively low budget kept the council from ever realizing its potential.
Now, a panel discussion at a Marine Fisheries Advisory Committee meeting has brought the concept of a national seafood marketing effort, funded by the industry and assisted through partnerships with the federal government, back.
The concept of an industry-funded marketing service isn't new, said Megan Davis, the MAFAC council member who has led the investigation into whether a national seafood board is feasible. Other similar food-related industries already have established marketing efforts.
"The agriculture marketing service is 100 percent supported by industry, and they have what they call 22 check-off programs," Davis said. Those programs cover everything from dairy, to beef, to popcorn; are supported by industry funding; and have budgets of millions of dollars.
A similar program for the seafood industry, said Davis, seems like a welcome idea. She casually surveyed people at Seafood Expo North America in March and found a great deal of enthusiasm.
"What I found is, after talking with 18 different marketing and promotion groups there, was this resounding yes, that they want this national marketing effort," Davis said.
Read More at Seafood Source.